The Maritime Union labour strike does not affect M/S Eckerö and the traffic between Grisslehamn and Eckerö. Read more
Guesthouse/Apartments | Welcome to our estate with a guest house, cottages, bakery and a café. We have a central location in Eckerö. Within walking distance you can reach a golf course, a family park with a restaurant, the local church and to a lake. There is a bus stop just nearby which can take you to Mariehamn, the city in Åland.
We offer accommodation in 4 rooms in the guesthouse, or one of our 5 cottages om the property. Breakfast, linen, towels, cleaning and wifi is always included in the price. The breakfast is served in our pavilion next to the bakery, where we offer a good and rich breakfast of local products and freshly baked bread.
Anderssons Guesthouse offers a homely accommodation in fresh rooms. All beds have nice spring mattresses and the three rooms on the upper floor are equipped with extra beds in the form of a bunk bed. A cot is available. All rooms have air ventilation.
The house contains 4 rooms / 14 beds, a large sauna and a spacious living room with TV, kitchenette, dishwasher and microwave. Shared shower and WC are on both floors.Smoking and pets are not allowed.
Compare "Anderssons Gästhem" with similar alternatives
You stay near Käringsund, idyllically located in the west on the coastline by the old fishing village. Here you can stay comfortable and all our houses are well equipped to a high standard. Choose from rural charm and high-class in a private beachfront location.
Situated a 5-minute drive from Mariehamn city centre, Strandnäs Hotell offers traditionally decorated rooms with a TV and private bathroom. The ferry terminal is 3.5 km away. All rooms at Hotell Strandnäs feature a small seating area. Guests can enjoy a breakfast every morning. Relaxation options include a library and summer terrace. Staff can help to book local restaurants and archipelago tours. The Pommern Museum ship is a 5-minute drive away.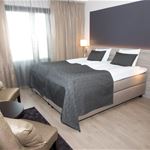 Hotel Pommern is located in central Mariehamn, with easy access to shopping, sightseeing, bars and nightlife. Pedestrian street, playgrounds and beaches are all close by. Welcome to our family hotel!