Käringsund Game Safari
Address: Gamla Käringsundsvägen, 22270 Eckerö
Date: Monday 5 aug 2019 - Saturday 17 Aug 2019
Show map


Address: Gamla Käringsundsvägen, 22270 Eckerö

Ride in our safari tram which holds about 40 persons, on an unforgettable guided round trip in the game pasture where you can see red deer, fallow deer, wild boar and ostriches.
During our round trip we stop to see the animals and you get a possibility to see them at really close distance. The safari takes about 45 minutes and starts by the parking area at the Hunting & Fishing Museum in Käringsund, Eckerö.

In the safari shop you can buy our popular meat products, game sausages, smoked deer meat and ostrich eggs. You can also buy for example coffee, ice cream and souvenirs

The Gamesafari starts in Eckerö, Käringsund. Eckerö is 34 km west from Mariehamn. You find signs for the Game Safari in Eckerö.

Timetable 2019:
12.6-15.6: Monday - Saturday 12.00, 13.00, 14.00 hrs
17.6-30.6: Daily 12.00, 13.00, 14.00, 15.00 hrs
21.6: Midsummer closed
1.7-4.8: Daily 11.00, 12.00, 13.00, 14.00, 15.00, 16.00 hrs
5.8-17.8: Daily 12.00, 13.00, 14.00 hrs

GROUPS/SCHOOL CLASSES
We welcome groups (minimum 16 persons) during the whole year. For availability and prices, please contact: viltsafari@aland.net
Visa mer
Book now - choose start date and product
Guesthouse/Apartments
Distance: 865 meters
You stay near Käringsund, idyllically located in the west on the coastline by the old fishing village. Here you can stay comfortable and all our houses are well equipped to a high standard. Choose from rural charm and high-class in a private beachfront location.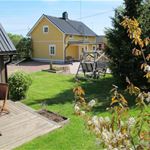 Guesthouse/Apartments
Distance: 4.1 km
Welcome to our estate with a guest house, cottages, bakery and a café. We have a central location in Eckerö. Within walking distance you can reach a golf course, a family park with a restaurant, the local church and to a lake. There is a bus stop just nearby which can take you to Mariehamn, the city in Åland. We offer accommodation in 4 rooms in the guesthouse, or one of our 5 cottages om the property. Breakfast, linen, towels, cleaning and wifi is always included in the price. The breakfast is served in our pavilion next to the bakery, where we offer a good and rich breakfast of local products and freshly baked bread.
Hotels
Distance: 910 meters
Eckerö hotel is beautifully situated, along the Käringsund road and nestling in relaxing surroundings near the sea. All our rooms 40 rooms have shower, own WC, hairdrier, flat TV screen, telephone(ISDN.NB! Rooms on Astrids Royal floor ( 2.floor/no elevator/stairs) have also a mini refrigerators.All our rooms non smoking. Wooden floors. No pets allowed in our hotelrooms. Please contact us direct for more precise information. Free wireless.